Warning
: Undefined array key 0 in
/var/www/wp-content/themes/doctorchad/lib/snippets/thumbnail.php
on line
67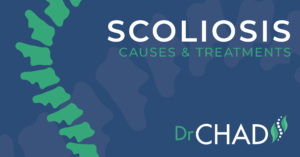 What is Scoliosis?
An estimated 6-9 million people in the U.S. suffer from the painful spinal condition called scoliosis. Scoliosis is a sideways curvature of the spine that occurs during growth spurts. Curves of the spine can be 10 to more than 100 degrees – and even have a rotational, cork screw bend in the spine. There are many different types of scoliosis ranging from idiopathic, congenital, neuromuscular, and degenerative:
Cerebral Palsy
Spina Bifida
Spinal Cord Injuries
Who Gets Scoliosis?
About 8% of adults over 25 and 68% in adults over 60 have scoliosis. Age of onset scoliosis ranges from 10-15 years old. This disease affects girls more than boys at a rate of 8 to 1. Individuals that experience degenerative scoliosis have underlying conditions due to smoking, obesity, and hard laboring jobs that affect the spine.
What symptoms does scoliosis cause?
Low Back Pain
Abnormal Gait
Decreased Lung Function
Orthopedic Issues
Loss of Height
Damage to Neurological Structures in Spine: Causing Weakness/Numbness)
Treatment of Scoliosis
Mild curves in the spine do not require treatment. Braces can be used with children who have spine curves that are between 20 and 40 degrees to help slow curvature progression. Many physicians will suggest their patients go to physical therapy to help with core strengthening which helps make the back stronger and/or a see a chiropractor. There are some spinal procedures such as epidural injections and rhizotomy that can help treat scoliosis.
Other treatments can include:
Thoracoplasty which can help reduce the size of rib humps due to spine curvature.
Osteotomy affected bones can be cut or removed with surgery.
Spinal fusion can weld vertebrae together.
Watch my WVUE Fox 8 Interview on Scoliosis