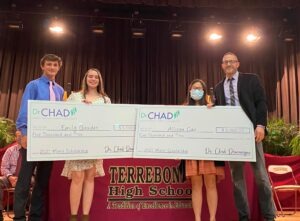 COVINGTON, LOUISIANA – Dr. Chad Domangue, a local from Houma, now nationally recognized neurologist, pain management physician and patient advocate, visited his alma mater at Terrebonne High School Thursday, May 20th at 6pm and awarded two young ladies, Allison Cao and Emily Gaudet, with the Dr. Chad Family Medical Merit Scholarship.
Dr. Chad donates scholarship proceeds from his personal funds – each scholarship awarded amounts to $5,000 per student. Dr. Chad has given $15,000 to Terrebonne High School students thus far in hopes that this scholarship will help students with their continuing education at a 4-year Louisiana University/College.
"I am honored to be able to continue to give back to my alma mater Terrebonne High and my hometown," said Chad Domangue M.D. "Growing up in Houma, I learned about integrity and hard work from my father and mother. My humble beginnings helped build the foundation for which I live my life, practice medicine, and help others."
What is the Dr. Chad Domangue Family Medical Merit Scholarship?
The Dr. Chad Domangue Family Medical Merit Scholarship is a $5,000 scholarship based on financial need and academic merit. The recipient must be an entering freshman enrolled as a full-time student at a 4-year Louisiana University. (A full-time student is defined as a student enrolled in 12 or more hours of credit courses.) There will be up to four scholarships awarded each year. The recipient must use funds and provide proof of purchase for tuition, room and board, or meal plan.
Dr. Chad Domangue Family Medial Merit Scholarship
Eligibility Requirements
Attend Terrebonne High School
Major in Health Sciences
Maintain a Grade Point Average of 3.5 or Higher
Score 24 or Higher on ACT
Watch My Awards Speech Here